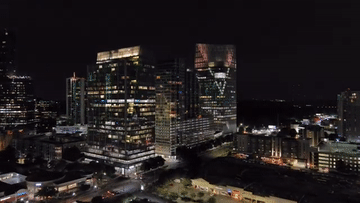 he music video treatment for "Falling for You" by Jamison is a visual masterpiece that will bring the song's emotive charm to life. The video will be a moving art piece, with stunning cinematography that captures the elceltic, clean, and fly essence of the song.
We open up fading from black with a slowly pushing drone shot of the Atlanta night skyline.
Next, we cut to the interior of a luxury car, where Jamison is seen driving. The camera then transitions to an exterior shot, slowly zooming in as the car pulls up.
Jamison steps out of the luxury car and walks towards the soundstage, their confident strides conveying a sense of purpose and anticipation. As they enter the soundstage, the camera follows closely behind, capturing the vast emptiness of the space. Jamison continues walking until HE reach a large room with an all-white cyc wall, devoid of any backdrops or distractions excect a stool, Mic, and a Cigar prop. The simplicity of the setting elevates the focus on Jamison's artistry.
After entering the all-white cyc wall room, the scene transitions to Jamison's performance. The camera captures the artist in their element, as they pour their heart and soul into their music. With every note and every movement, Jamison's performance exudes a raw and captivating energy, drawing the viewers in and leaving them spellbound. The all-white cyc wall serves as the perfect canvas for Jamison's artistic expression, as they create a moving and unforgettable experience that resonates with their audience on a deep level.
THANKS FOR YOUR CONSIDERATION